Requirements and Eligibility
Registered as an active student at home university.
Have a good command of the English Language.
Have a good health condition.
Be physically present at home university at the time of application.
Must agree to enroll at UTM as described in the program plan.
Must agree to abide by the rules and regulations of UTM or placement provider.
Should demonstrate empathy and understanding of cultural difference.
Should demonstrate excellent personal skills.
Agrees to be responsible for the costs incurred.
Application Procedures
Fill up the online application form – Research Internship/Teaching Practices Activities
UTM International will do application review and clarification.
UTM International will forward the application to the Host Faculty for their review and approval.
The offer letter will be issued out after faculty's approval.
Application Period
| | |
| --- | --- |
| Internship | Application Deadline |
| All year-round | 3 months before program's commencement |
a
Faculties and School
Incoming students are required to browse through the link below for the faculties and school that available for research internship/attachment.
Information Sheets
[su_spoiler title="UTM Information Sheet 2020/2021″ style="fancy" icon="plus"][gview file="https://international.utm.my/wp-content/uploads/2020/11/2021-UTM-STUDENT-EXCHANGE-FACT-SHEET.pdf"][/su_spoiler]
[su_spoiler title="Program Fees" style="fancy" icon="plus"][gview file="https://international.utm.my/wp-content/uploads/2019/04/Annex-1_Fees-UTM-Inbound-Mobility-10042019-1.pdf"][/su_spoiler]
Visa Requirement
[su_accordion]
[su_spoiler title="Single Entry Visa" style="fancy"]
Incoming student is required to apply for the Single Entry Visa (SEV) at Malaysia Embassy in your home country. In order to obtain the SEV, the incoming student needs to apply for the Visa Approval Letter (VAL) to obtain a Mobility Pass with the duration of study 3 – 12 months from Malaysia Immigration through UTM.
[/su_spoiler]
[su_spoiler title="Mobility Pass (3 – 12 months)" style="fancy"]
All International students who wish to study for 3 – 6 months at any educational institution in Malaysia must apply for a Mobility Pass. Visa Approval Letter (VAL) must be applied three (3) months prior the arrival to obtain Mobility Pass upon arrival.
All students under this category must come under a Mobility Pass and not a tourist or entry visa. UTM International will help students to apply for the mobility pass visa upon arrival. Any information will be updated by email.
Effective from 1 December 2016, Visa Approval Letter (VAL) for Mobility Pass application is managed by the Education Malaysia Global Services (EMGS) through EMGS STAR System, at https://educationmalaysia.gov.my/ prior of submission to Malaysia Immigration Department. Any payment charged should be made directly to EMGS.
Payment for Mobility Pass should be made by CASH to UTM International upon registration. List of visa fees is written in UTM offer letter.
Once you received the approval letter for your mobility pass, you are required to go to nearby Malaysia Embassy as stated in the visa with reference letter and request for Single Entry Visa.
IMPORTANT:
All students must come under a mobility pass and not a tourist or entry visa. UTM International will help students to apply for the visa.
Students need to buy flight ticket only after you receive Visa Approval Letter (VAL) from UTM or our Malaysian Immigration either via email or mail to obtain the mobility pass upon arrival.
For duration of study less than 3 months: The students need to ensure that the visit pass duration is able to cover your study duration in Malaysia.
You are advised to follow Malaysia rules and regulations. Failure to follow the regulations is under your own responsibility. Refer to our Malaysia Immigration Department at http://www.imi.gov.my/index.php/en/.
Download
[/su_spoiler]
[su_spoiler title="Health Insurance" style="fancy"]
The student is COMPULSORY to purchase health insurance which covers personal accident, inpatient treatment, repatriation, death and any other additional terms which necessarily while in Malaysia.
Purchasing insurance:
For study duration less than 3 months: You are compulsory to purchase a medical/travel insurance from your home country which can cover costs for medical and hospitalization in Malaysia hospital.
For study duration from 3 – 12 months: All students are required to obtain a valid insurance policy in Malaysia. Students need to obtain insurance policies available which are available upon applying for the mobility pass through EMGS STARS system.
[/su_spoiler]
[/su_accordion]
Arrival and Accommodation
[su_accordion]
[su_spoiler title="Getting to UTM" style="fancy"]
Students are required to arrive in UTM 3 days before official orientation program starts.If students arrive during our office hours (Sunday to Wednesday, from 8.00am to 5.00pm and Thursday ,from 8.00 am to 3.30 pm).  Students are advised to manage your flight ticket and arrive in UTM within office hours. Please go to UTM International for registration information as following address upon arrival:
UTM International
Block S19, Universiti Teknologi Malaysia,
81310 UTM Johor Bahru, Johor, Malaysia
Phone : +607-5536843
Fax : +607-5536847
Email : globaloutreach@utm.my
Location : 1°33'20.6″N 103°38'36.6″E
[/su_spoiler]
[su_spoiler title="Student Accommodation" style="fancy"]
You will be guaranteed on-campus accommodation. The rate for a room may vary by each College and room type, but the minimum rate is RM20/day. Students will be placed to any room subject to approval and availability.
Incoming students are also allowed to rent private – off campus accommodation. However, students are required to make their own arrangement on this matter.
[/su_spoiler]
[/su_accordion]
Dress Codes
Students are expected to be clean, well groomed and dressed in a manner appropriate to the Malaysian custom or norms. Students must maintain a professional appearance by wearing collared shirts/t-shirts, shoes, slacks or long skirts while attending classes and/or on official visits to Faculties/Administration building.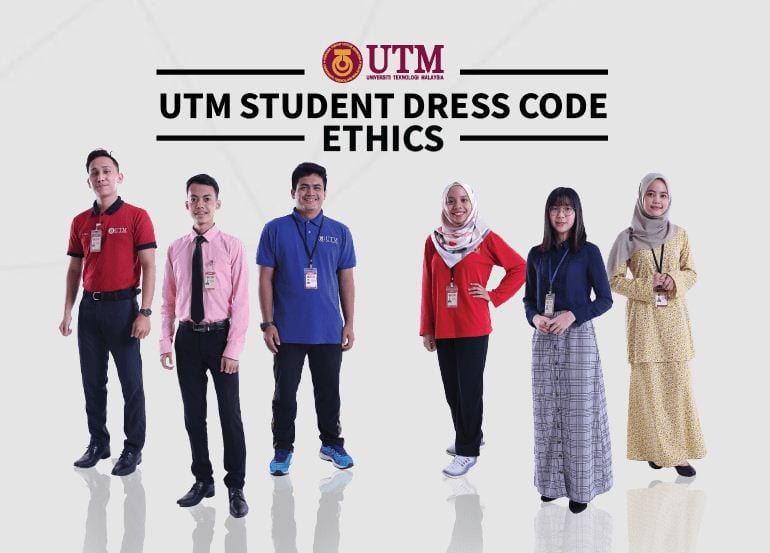 Avoid WEARING INAPPROPRIATE CLOTHING or FOOTWEAR including:-
a) Short skirts or shorts.
b) Round-neck T-shirt.
c) Sleeveless shirts.
d) Tight slacks/pants.
e) Slippers/ sandals.For male students, hair must be neatly trimmed and reasonable in length, colouring and freestyle hairdo are strictly prohibited.All visible body piercing is prohibited except for female's pierced ears.
Program Completion
[su_accordion]
[su_spoiler title="Inbound Mobility Survey Form" style="fancy"]
All students are COMPULSORY to fill in our inbound mobility survey form at the link provided below and will be entitled for official program certificates from UTM International.
https://international.utm.my/inbound-mobility-feedback-form/
[/su_spoiler]
[su_spoiler title="Visa Cancellation" style="fancy"]
Student is required to submit their passport and documents needed to us for visa cancellation purposes. You are prohibited to go to back to your country without cancelling the student visa/ professional pass. The process must be done at least 21 days before your flight date back to your home country. The documents needed are:
Original passport
Copy of flight ticket
Status Letter Verification from faculty
[/su_spoiler]
[su_spoiler title="Personal Bond Refund" style="fancy"]
Student may claim their personal bond money after the visa cancellation is done.
* the application must be attached together with a copy of payment slip.
[/su_spoiler]
[/su_accordion]