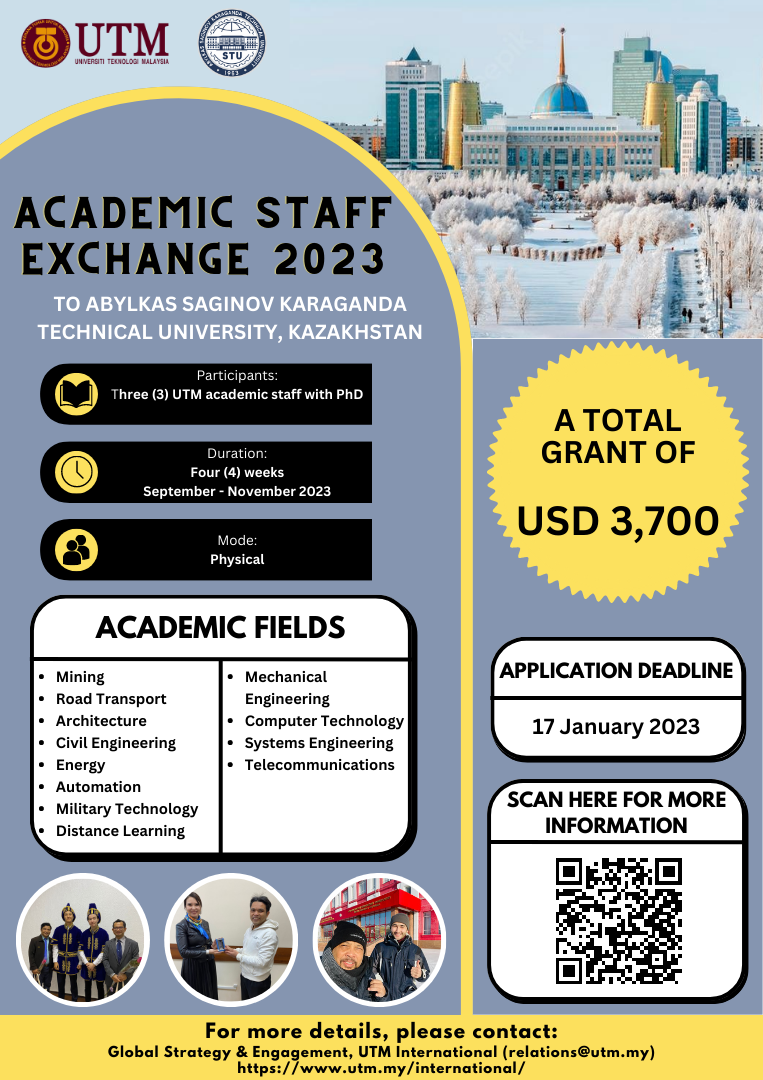 Successful Applicant will be informed via email.
Academic STAFF EXCHANGE OPPORTUNITY 2023 IN KAZAKHSTAN
(Funding Available)
Warm Greetings!
Dear all UTM Academic Staff,
Abylkas Saginov Karaganda Technical University, one of the leading technical universities in Kazakhstan is calling for three (3) UTM academic staffs to take part in the Academic Staff Exchange Programme in their campus in Nursultan, Kazakhstan. A total grant of USD 3,700.00 will be awarded to the selected staff to undergo the 4-week academic attachment programme. Details of the programme are as follows:
Saginov Karaganda Technical University Academic Staff Exchange Programme 2023
General Information
Duration: Four (4) weeks (September – November 2023)
Venue: Saginov Karaganda Technical University, Nursultan, Kazakhstan
Mode: Physical
Funding: USD 3,700.00
Academic Fields
Based on the faculty in the host University
1. Faculty of Mining,
2. Faculty of Mechanical Engineering,
3. Faculty of Road Transport,
4. Faculty of Architecture and Civil Engineering,
5. Faculty of Computer Technology and Systems Engineering,
6. Faculty of Engineering Economics and Management,
7. Faculty of Telecommunications, Energy and Automation,
8. Faculty of Military Technology,
9. Faculty of Correspondence and Distance Learning.
Required Documents For Exchange (upon Acceptance)
1. A copy of the passport of a foreign scientist;
2. Documents confirming the existence of a Doctor of Science degree or the existence of a PhD degree;
3. Documents confirming a high citation index, the presence of joint works with well-known scientists, patents, publications in scientific and professional journals with an impact factor for the last 3 years
eligibility
Active UTM Academic Staff with PhD
How to Apply
Interested UTM Academic staff may fill in the form that can be accessed via this link (https://international.utm.my/staff-mobility-2/).
The Deadline of application is 17 January 2023. UTM International will then send the nominations to the Abylkas Saginov Karaganda Technical University for their final selection.
KPIs during the programme
1. Conduct lectures and practical classes in the amount of at least 8 academic hours per week.
2. To carry out co-management or consultation of the master's and (or) doctoral dissertation in the amount of at least 3 hours per week.
3. Conduct at least two training sessions and (or) seminars for university employees.
4. Participate in the preparation of at least two scientific articles in journals recommended by the Ministry and (or) collections of international conferences, as well as peer-reviewed international journals.
5. Conduct training seminars for young scientists and doctoral students (at least one seminar per week).
6. Conduct a review of at least one scientific and (or) research work.
7. To prepare the proposal together with young scientists and (or) doctoral students (at least two) to participate in grant programs, international projects, international scientific research.
8. To review at least one educational program and (or) at least two syllabuses.
Important Date:
Application Deadline: 17 JANUARY 2023 (Tuesday)
Discover more about UTM International partners
Any enquiries, please do not hesitate to email us at