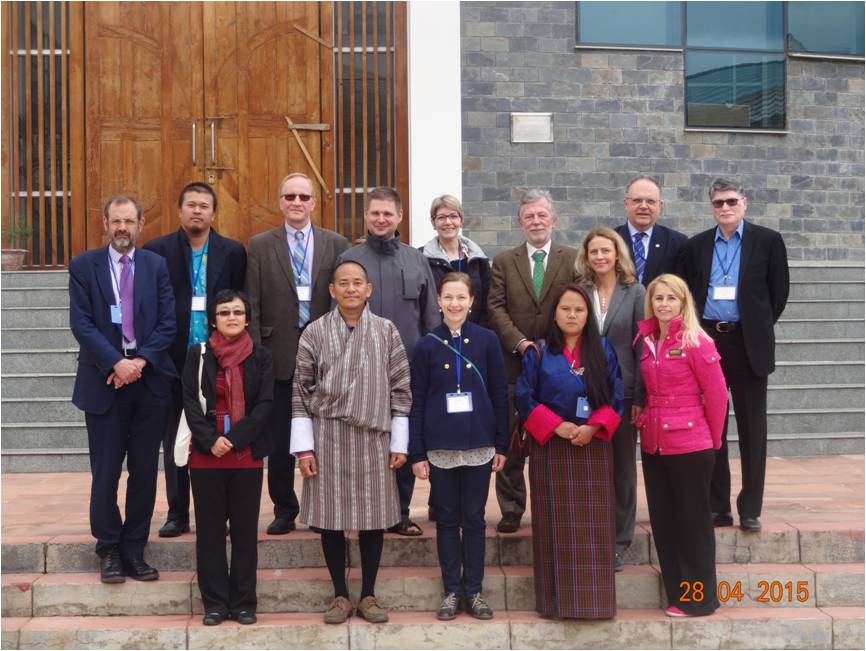 30 April 2015. Thimphu, Bhutan.
UTM delegates attended the 5th Erasmus Mundus IDEAS (Innovation & Design for Asian Scholars) project in Royal Institute of Bhutan from 27th to 29th April 2015. The Erasmus Mundus IDEAS project is a mobility program funded by the EU commission and led by Mälardalen University from Sweden. The project commenced since 2011 has mobilized 98 Asian scholars from 5 Asian partner universities to the 7 EU partner universities. The IDEAS project aims to create a partnership in research and education that will strengthen the ties between Europe and Asia, with a special focus on innovation and product realization in a global context.
The project achieved a 98% of the targeted mobility plan covering undergraduate and postgraduate (master and PhD) students as well as for academic staff where Asian scholars received full scholarship to attach in the EU partner university for 10 months or 3 months for students or staff category respectively. UTM has mobilized up to 20 students and 4 academic staff over the past 4 years. The 5th meeting also the final meeting evaluated the impacts of the project in terms of academic and research collaborations among the Asian and EU partner universities. Discussion also covered future collaborations to be funded by potential funding from the EU commission or respective national funding sources.
The EU and Asian partners in the Erasmus IDEAS program are as follow.
EU Partners
Mälardalen University, Sweden (Coordinator)
Technical University of Eindhoven, The Netherlands
University of Abertay Dundee, United Kingdom
University of Tartu, Estonia
Polytechnic University of Valencia, Spain
Polytechnic University of Madrid, Spain
Darmstadt University of Applied Sciences, Germany
ASIAN Partners
Indian Institute of Technology, Bombay, India
Lahore University of Management, Pakistan
Universiti Teknologi Malaysia, Malaysia
Royal Institute of Bhutan, Bhutan
Tribhuvan University, Nepal