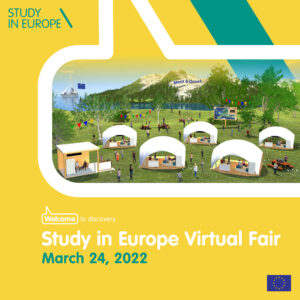 Dear UTM Students,
We are pleased to announce that the Delegation of the European Union to Malaysia and DAAD Germany jointly organise a virtual Study in Europe Fair on the 24th March 2022 from 16:00 to 20:00 (UTC+8/MYT). The event which focuses on Malaysia and the ASEAN region, will provide students information about study opportunities in 13 EU member states as well as the Erasmus+ programme. They will also have the chance to ask questions from Erasmus+ alumni members.
More than 35 universities and national agencies are looking forward to welcoming you. Register now and meet European university representatives online and get all the information you need.
Take the chance to:
Text and video chat live with institutional representatives of national agencies, universities, and the EU/Erasmus+ who are happy to inform you about funding opportunities and to answer your questions
Follow institutional talks, where you can learn more about specific universities and study programmes or listen to the stories of international students currently studying in Europe.
The list of exhibitors and registration link are available at: https://studyineuropefairs.eu/exhibitions/detail/21/
For other programmes information, kindly visit www.ec.europa.eu/study-in-europe/ or www.ec.europa.eu/programmes/erasmus-plus
Here are some Youtube videos for you:
https://www.youtube.com/watch?v=_XyHB_KM9zI
https://www.youtube.com/watch?v=PExwgOjCvis
Thank you and stay safe !