ATU-Net Special Interest Group (SIG) Research and Publication is calling for proposals from interested researchers to apply for Young Researcher Grant scheme.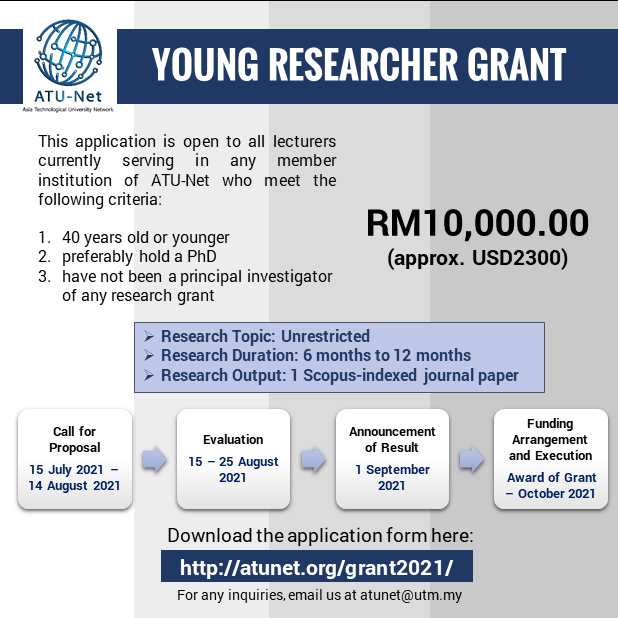 ELIGIBILITY:
– Participants must be and/or under age of 40, most preferably young lecturers with a PhD. 
– The programme prioritises eligibility for participants who have not been a principal investigator of any research grant.
REQUIREMENTS:
1) Applicants should submit their curriculum vitae (CV) and application form before the deadline.
2) Restrictions on research topics will not be applied considering that different ranges of each potential participant's university.
3) Results of the programme are expected in 6 months, and latest at 12 months.
4) The programme output includes 1 Scopus-indexed journal paper.
IMPORTANT DATES:
Call for Proposal: 15 July 2021 – 14 August 2021
Evaluation: 15 August 2021 – 25 August 2021
Announcement of Result: 1 September 2021
Funding Arrangement and Execution: Award Grant – October
APPLICATION
Click HERE to download the application form.
Click HERE to submit the application form and other required documents.
For further enquiries, kindly email the secretariat at atunet@utm.my