Student Responsibilities
Apply for program approval
Program approval must be applied to Office of Deputy Vice Chancellor (Academic & International) through UTM International at least three(3) months before program starts.  Approval letter will be issued to applicant`s faculty.
Apply for Going Abroad Approval and/or Sponsorship Approval
Student who involve in any international program is COMPULSORY to apply for going abroad application to Office of Deputy Vice Chancellor (Student Affairs and Alumni).  The application must be submitted at least a month before program start.  To those who wish to apply for any sponsorship from outside companies/ institution must apply for sponsorship approval letter as well. Please contact Office of Student Affairs at 07-553 8848.
Monitor student's status and academic matters during abroad
Maintain a good relations with UTM International & faculty
Student must update any activities while abroad to faculty and UTM International. The updates should be submitted online through UTM International Submit Blog Post.
Valid contact information
Any changes of contact must be informed to faculty and UTM International
Personal risk assessment i.e : health, culture, financial
Respect host institution regulations
Preparation
Travel

Flight booking, ground transport, airport transfer

Important contact at host institution

Travel documents i.e validity of passport, insurance

Health

Vaccination (if required)

Health Insurance. 'Insurans Berkelompok' purchased by UTM for local students CAN BE USED by students when going abroad. HOWEVER, it is only covered for Permanent disability and death. Students are advised to purchase health insurance when going abroad which covers for the entire period of stay. Bring enough medicine and first aid kit and Medicines. Please contact Office of Student Affairs at 07-553 0513

Visa Application

Determine visa needed to enter and stay host country

Application for student visa/pass

Academic

Monitor academic record in AIMS

Identify courses for registration at host institution

Financial

Calculate living expenses abroad

Consider currency exchange
Boarding & Returning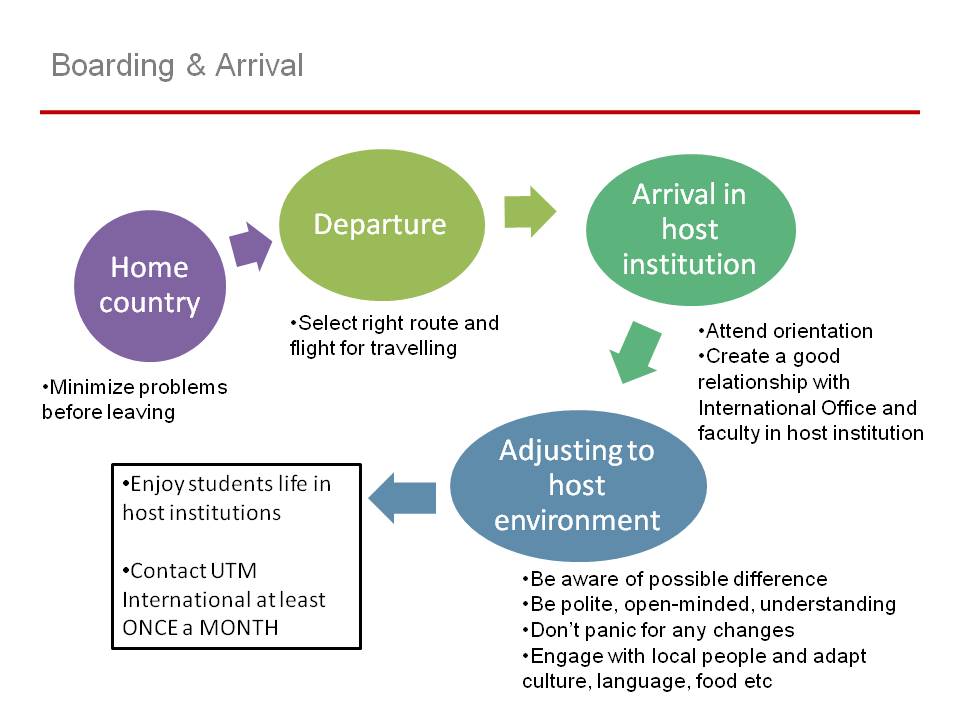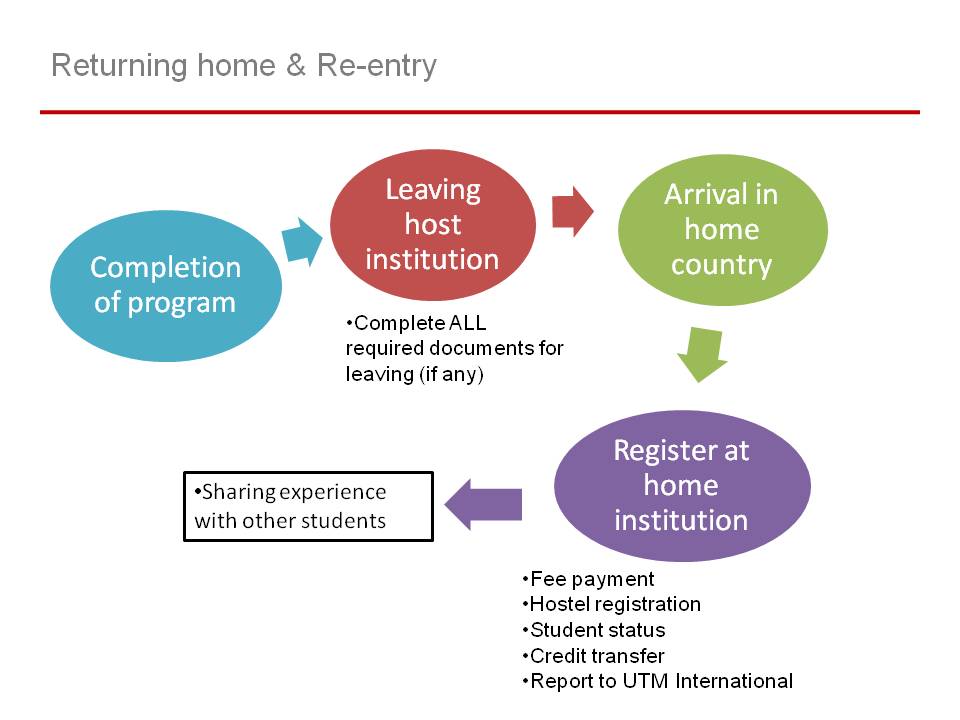 Program Report

Program report MUST be submitted within 14 days after program end which are:
1) Program report in hardcopy and pictures which related to program involve. Together with softcopy of pictures in CD(s) ( image file only). Download program report template.Submit the report to:
UTM International
Block S19, Universiti Teknologi Malaysia
81310 UTM Jhor Bahru, Johor.
3) Fill up Online Outbound Feedback Form at https://international.utm.my/outbound-mobility-feedback-form/.
Note : Certificate will only be issued for those who submit the program report.