Universiti Teknologi Malaysia (UTM)secured EUR 755,404 (approximately RM3.7 million) for the European Union-funded Capacity Building in Higher Education (CBHE) project Accelerating Digital Transformation for Higher Education Institutions in Southeast Asia (DX.sea). Through the development of a digital strategic plan and the improvement of the quality of learning and teaching methodologies and pedagogical approaches for digital learning, the project aims to build digital transformation competencies in Southeast Asian higher education institutions. It seeks to address the challenges posed by COVID-19's impact on the quality of education in Laos, Cambodia, and Malaysia.
The DX.sea committee launched a two-day virtual workshop on 13 February 2023 to kick off the three-year projects. The Vice-Chancellor of UTM opened the virtual kickoff meeting agenda with a welcoming address. In his remarks, Professor Datuk Ir. Ts. Dr Ahmad Fauzi Ismail mentioned that efforts to support digital transformation in education in underdeveloped countries must be carefully planned and implemented to ensure they are accessible and equitable for all students. The agenda continues with an update from the Project Manager, Professor Dr. Nordin Yahaya.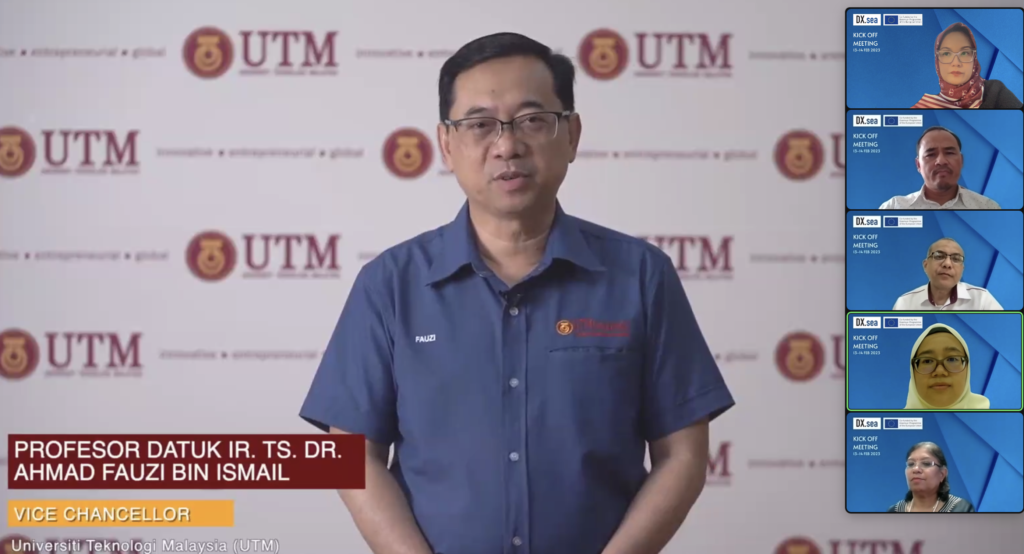 Highlights of the virtual KOM include the presentations of the country reports by the Deputy General of Higher Education, Ministry of Education and Sports, Dr. Khamkeo Hanhsana; the Director of Department of Science Research, Cambodia Ministry of Education, Youth and Sport, Dr. Heng Kreng, and the Chair, Malaysia IPTA e-learning Council (MEIPTA), Assoc. Prof. Dr. Nurbiha binti A. Shukor. The two-day workshop was attended by 50 people from all the participating institutions and were briefed on the project's direction.

This project will benefit 5 institutions in Laos, at least 20 in Cambodia, and 40 in Malaysia, as they will receive training that incorporates materials developed by an interdisciplinary team from Malaysia and its partner countries. One of the expected outcomes of this project is that academics and non-academics will be able to deliver high-quality digital teaching and learning efficiently.

Other significant outcomes include the institutional digital transformation plan and policy, the development of campus ICT infrastructure and a digital learning management system, the development of skills for designing digital content for delivering digital education, effective digital teaching, assessment, monitoring, and quality assurance, as well as the creation of training materials and Train-the-Trainer (ToT) programs. To ensure long-term viability, all other institutions in Southeast Asian nations will have access to an Open Educational Resource portal and learning training centres in their respective countries.