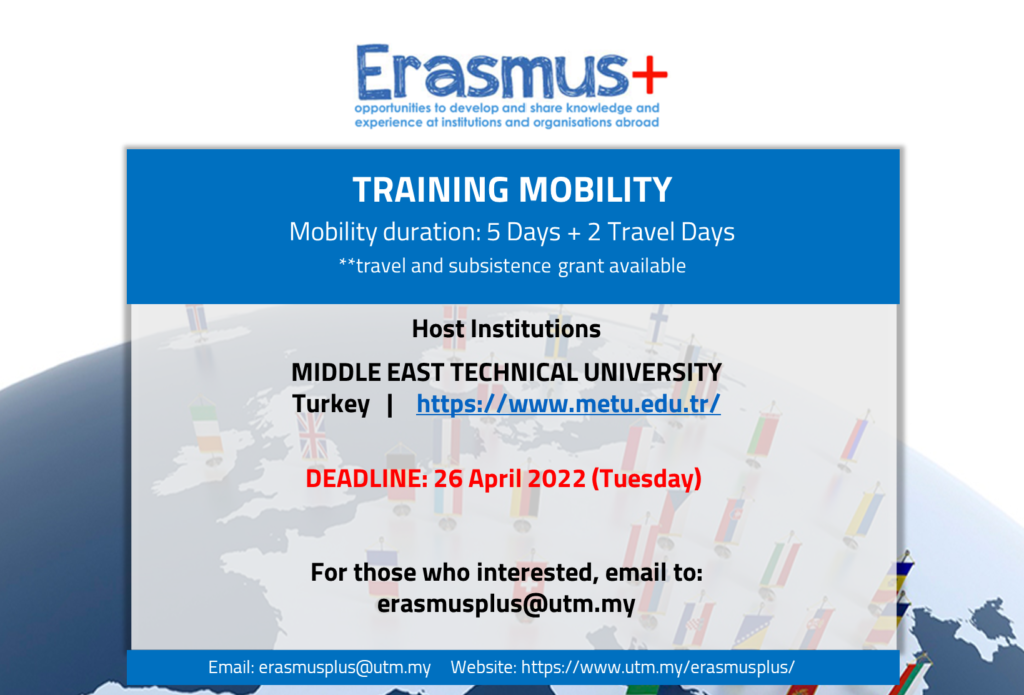 Mobility Opportunities for UTM Administrative Staff!
Under the Erasmus+ KA107 mobility programme, Middle East Technical University, Ankara, Turkey is offering mobility opportunities for administrative staff in conjunction with METU 6th International Staff Training Week, 30th May – 3rd June 2022. The duration of mobility is 5 days plus 2 travel days with travel and subsistence grant provided. 
This programme focuses on exchanging experiences, making assessments of the partnership, sharing best practices and learning from each other. Interested staff working in the fields of international cooperation, student/staff mobility (e.g. International Officers, Staff Responsible for Summer Schools, International Recruitment, Strategic Planning, International Career Offices, Erasmus+ KA1, KA2 & KA3 projects) and/or support services offered for international students (Accommodation, IT, Social Engagement Offices, if they work in a close contact with International Students) is welcome to apply.
Deadline: 26 April 2022 (Tuesday)
For further inquiries, please contact us at erasmusplus@utm.my.