STUDY ABROAD FAIR (SAF) 2023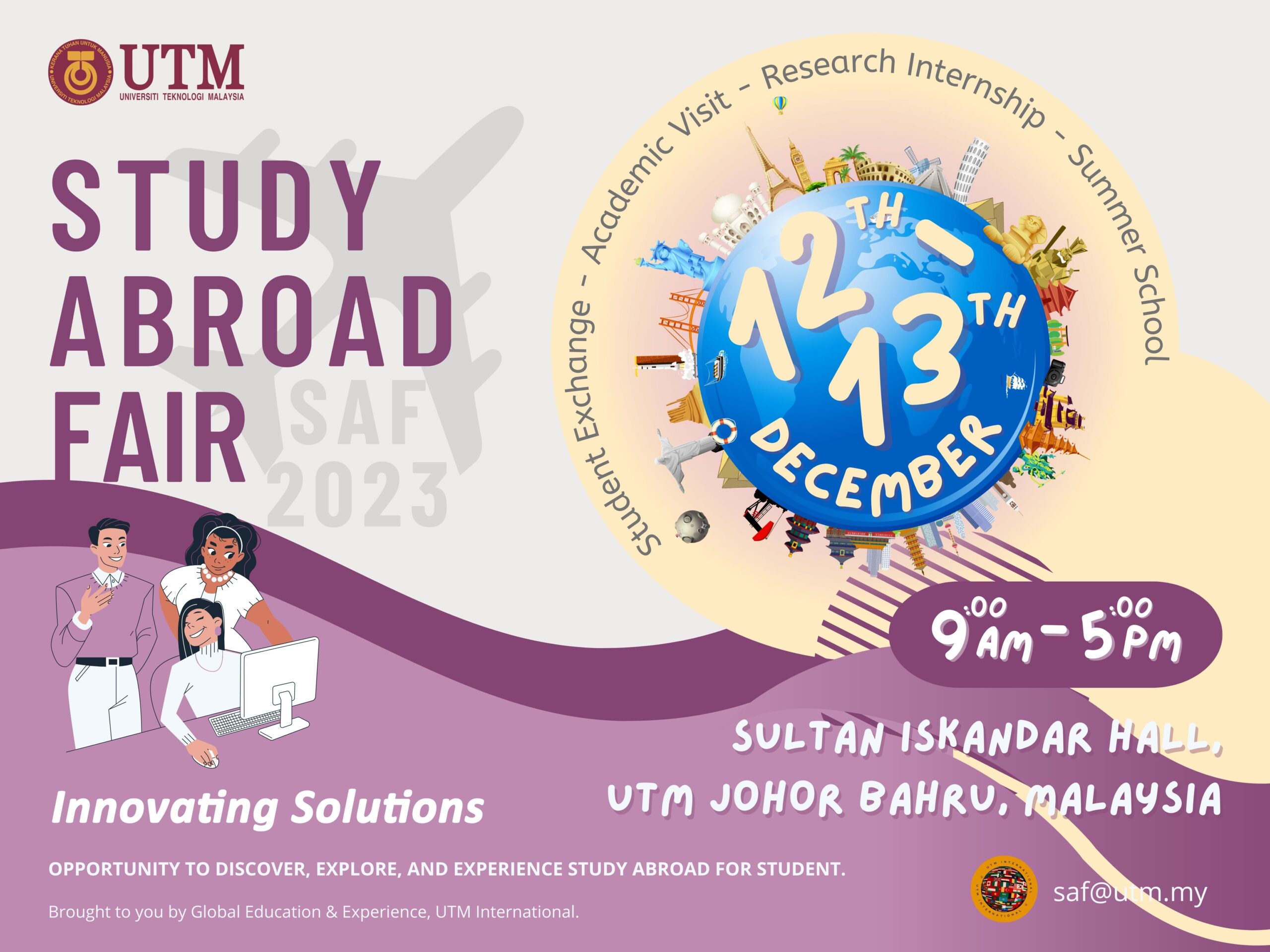 Warm Greetings from UTM International!
Dear valued partners,
We are pleased to invite your esteemed institution to participate in our upcoming Study Abroad Fair (SAF) 2023 to be held from 20th – 21st November 2023 at Universiti Teknologi Malaysia. SAF2023 aims to provide a platform for students to explore study abroad opportunities and connect with renowned education institutions like yours.
As one of the leading institutions in the education sector, we believe that your participation in the event would bring numerous benefits and opportunities for your institution. SAF2023 will bring together students, faculty members and professionals from various disciplines and backgrounds, providing an excellent opportunity for you to showcase your institution and the programs you offer. Participating in SAF2023 will enable you to connect with other institutions and organizations, fostering new collaborations and partnerships that can benefit your institution in the long run.
The fair will attract not only top-quality students from various academic fields but it will also be giving you the chance to interact with talented individuals who are interested in studying abroad and possibly enrolling in your institution. It can provide you with a good insight into the latest trends and developments in the education sector, which can help you refine your strategies and offerings.
We would be delighted to have your institution participate in the Study Abroad Fair at UTM. Please let us know if you would like to register for the event or if you require any further information. Details of the event are as follows:
Dates                    : 12th to 13th December 2023
Venue                   : Sultan Iskandar Hall, Universiti Teknologi Malaysia

Buy your ticket : https://bit.ly/SAF2023UTM

Inquiry                     : saf@utm.my
Tentative Program
– TBA –